One-to-One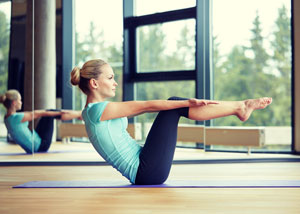 There are times when you might be looking for a more personalised approach to Pilates and would benefit from one to one sessions.
These sessions are tailored to your exact needs working towards individual goals. They are ideal if you suffer from orthopaedic issues including Physiotherapist referrals, various health issues, new to exercise or pre & post natal needs.
The sessions can also benefit you if you're looking to be stretched at an advanced level and benefit athletes of many sports including running, rowing, tennis & riders.
The sessions are flexible to suit your needs on an individual or small group level.
One to one personal training sessions equip you to practice the exercises yourself, join a small group session or move on to a general level class.
Pilates for sport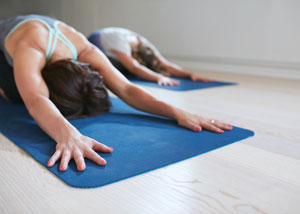 Many athletes & dancers find Pilates benefit their training programme, whether they are Olympic level or looking to compete in a local 5km run. Athletes find their bodies strengthened whilst increasing their sense of body control. Lucy draws on her own personal sport training to work with numerous athletes including golfers, runners, rowers, footballers, riders, ice skaters & swimmers.
Sessions can be arranged at an individual or club level.
A session is usually 1 hour in duration and usually taught from the fully equipped Studio at Grosvenor Street Physio in Mold. Sessions can also be taught in your home or work place.
Workplace Pilates
Pilates can be of particular benefit to employees who are office bound, working on production lines or doing daily repetitive tasks. Our spine is designed to move through every plane of movement yet the modern working world limits this movement .
Employee well being Pilates sessions are an excellent way to teach employees healthy back care benefitting all involved. Sessions can be run in term bookings or educational workshop style.
Contact me to discuss individual needs, prices & flexible booking times to suit your schedule.