Reformer
What is a Reformer?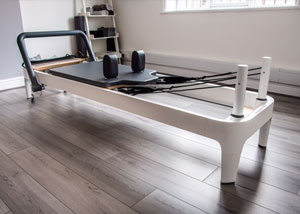 A Reformer is the most popular piece of Pilates equipment. It is hugely versatile as it adds variations and challenges to Joseph Pilates original exercises.
Put simply, Pilates on a Reformer takes Pilates to a different level.
The Reformer enhances the flow and variety of rehabilitation, post-rehabilitation and fitness sessions.
How does a Reformer work?
The carriage on a Reformer is attached to differing tension of springs to ease the movement as you push on the foot bar or pull on ropes.
Exercises can be done lying, sitting, kneeling or standing on the carriage or sitting box.
Why use a Reformer?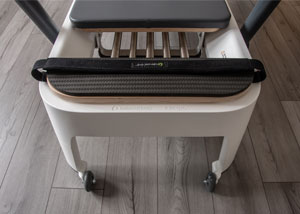 When doing the exercises on a mat your body provides the resistance & assistance using gravity and your own weight. On a Reformer the exercises can be developed further by using spring resistance which can support & increase the challenge which increases your overall strength & mobility.
The Reformer introduces you to limitless possible variations on classic Pilates exercises.
In the Studio we use The Allegro 2 Reformer by Balanced Body.
It is the most versatile, easy to use Reformer on the market. Beautifully designed & built the Allegro 2 offers seamless flow, easy adjustments & smooth transitions.